The 2011 Download version with several significant improvements is available now. Note that the CD-ROM version is no longer available (or only upon request). You have to obtain the Download version.
---
The download version contains the following items:
Reptile Database as stand-alone application with separate species and literature databases and with separate fields for authors, years, continents, types, URLs (species database) and authors, years, titles, sources (literature database). Please note that these data are not searchable on the web separately. Data corresponds to the web edition except that there are many links missing on the web, e.g. from reference to species. The bibliography on the Download version has about additional 5,000 references that are not in the web edition.
24-page operation manual with detailed descriptions of the database, search options, glossary.
Table view of the Download version with separate fields (only two rows are shown):

Note that you can search for authors, years etc. On the web you can do that only to a limited extent.

Single Record view with muliple function buttons (roughly original size; Download version zoomable):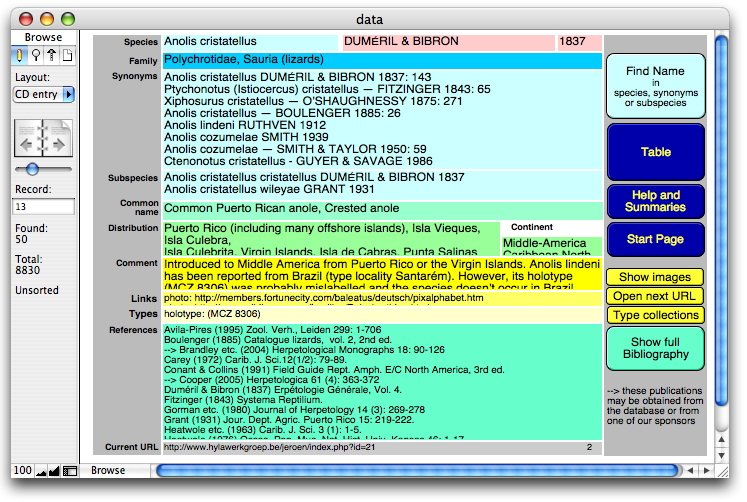 Functions seen on this screen shot: Find name searches for species names in the species, synonym and subspecies fields (all the other fields can be searched independently and in all possible combinations, of course, by pressing CTRL-F or Apple-F). Blue buttons switch to different layouts including a summary layout that displays statistics (e.g. breakdown by year when species in a certain family have been described, breakdown by continent etc.). Show images shows images available on the web. Open next URL opens web pages with images and other linked information. Type collections links to the Index of herpetological collections. Show full bibliography shows bibliography in detail as shown below. You can also compile complete bibliographies for all species shown, e.g. for all species of a certain family or a country (this is a meny command, not shown here).
Here is a look at the bibliography file:
Functions: You may sort by author, year, title, or source by clicking the title buttons. Copy complete citations by clicking the copy button. Find species described in these references by pressing the species button. Request PDF reprints by clicking the pdf radio button (right-hand side). 10 pdfs (of copyright-free papers) are included in the purchase of the download version.
Is the database complete?
The database is not absolutely complete - simply because taxonomy advances permanently - but it contains the most complete checklist you can get. It lists 9,414 species (>99% of all extant reptile species), >99% of them with distribution data, >99% of them with original references etc. The literature database has more than 28,000 manually selected references of primary taxonomic interest (the online version has about 5,000 references less!). We will publish new releases of the download along with updates of the reptile database on the web.
System Requirements
The database is available for Apple Macintosh (OS 10.5. or newer) and for Microsoft Windows (Windows XP or newer). We do not support Mac OS 9 any more. A minimum of 100 MB hard drive space, 100 MB of free RAM.
Pricing, orders, and delivery
Starting with the release in August 2011, the download is available for US $49 (for downloads); other currencies see link below). Please note that VAT or sales taxes may be added depending on where you live. NEW: Registered users who order the Download version are entitled to one free upgrade at any later time.
For downloads you will receive a download link by e-mail within 2 days.
The download is free for contributors (note new numbers!)
You may qualify as such by submitting ONE of the following:
20 photos of species that are represented in the database with 1 or no links (for copyright reasons preferably prints)
10 photos of species not yet covered at all
4 photos of genera not yet covered
15 reprints of taxonomic interest (minimum 100 pages)
25 articles (photocopies) of taxonomic interest (minimum 150 pages) (preferably as electronic files, i.e. scans)
1 book of taxonomic interest
corrections or information filling gaps (negotiable)
All of these contributions are negotiable to some extent (and we reserve the right to reject photos of poor quality!). Let us know what you have BEFORE you submit anything, simply to make sure we don't receive too many duplicates etc. Photographers and authors retain copyrights for their works, of course.
Please note that the WWW-Version of the database is and will remain free! The download will hopefully help us develop the database further and fund the public web version.
More Information: info@reptile-database.org
---
This page is maintained by Peter Uetz.

Created: 2 July 1997 / Last updated: 1 Aug 2011